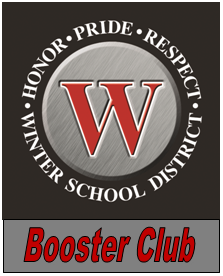 Winter School District Booster Club Contacts:
President -- Joshua Hautamaki
jmaki55@yahoo.com
Vice President-- Jennie Pasanen
timberchic@bevcomm.net
Treasurer -- Jody Wergeland
jody_wergeland@hotmail.com
Secretary -- Carrie Roberts
croberts1@winterwarriors.org
The Winter School Booster Club is an enthusiastic promoter and supporter of both academics and athletics. Members encourage students to strive for excellence in academics, athletics, citizenship, and good character.
The Winter School Booster Club is an organization made up of students, parents, community members, coaches, the school's physical education department, and all extracurricular activities needing support at Winter Schools.